News & Insights
Further fleet investment matches our growth and client needs
From conception, McLanachan Transport has continually valued the benefits of reinvestment in our business to support our client needs. People, processes, systems and, of course, our fleet are all areas that support our growth and are at the core of our operations.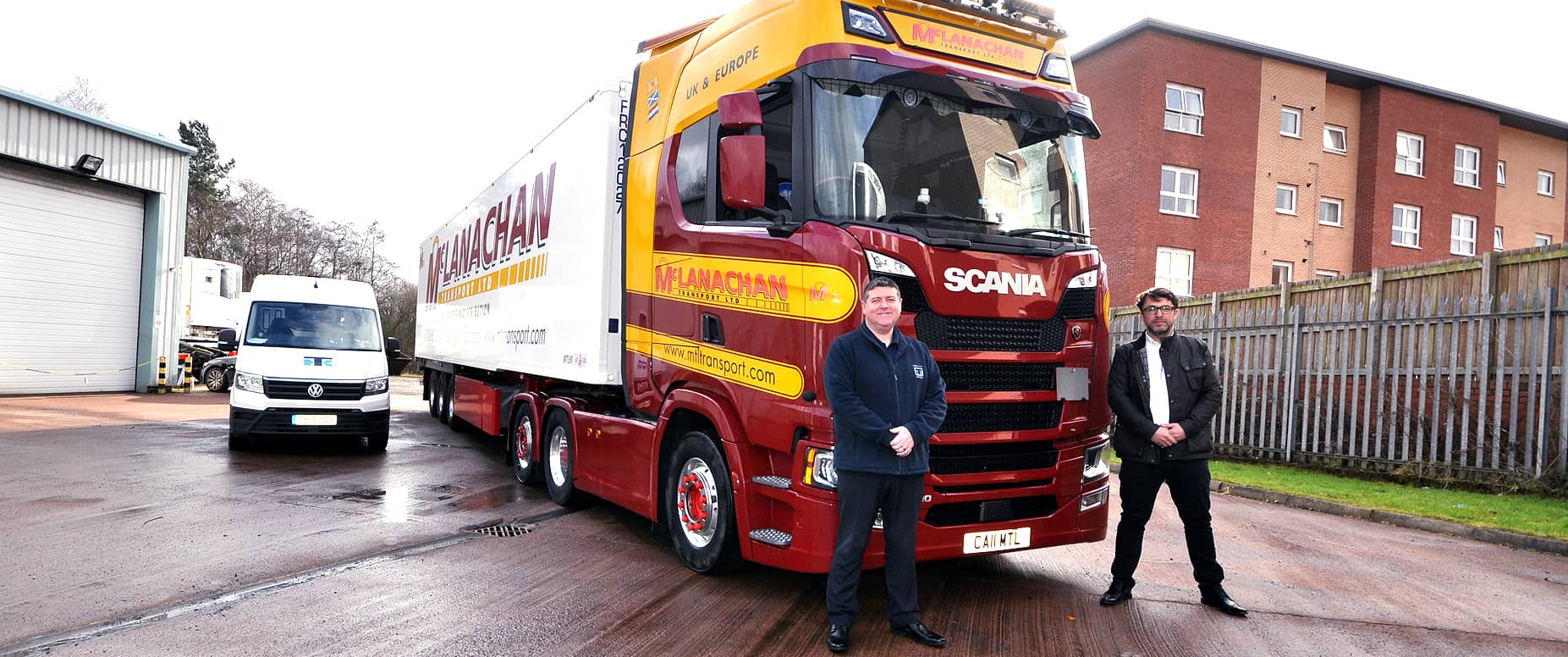 We are pleased to announce we have made our most recent fleet additions, with the purchase and tailored specification of five, three-compartment Gray & Adams fridge trailers to our ever-expanding and modern fleet.
Stewart Massie, Sales Manager at Gray & Adams, commented: "We have enjoyed a very successful relationship with McLanachan Transport over the years and their desire to continually enhance their fleet is excellent to see within the industry.
Specifically designed, the new trailers offer maximum load-carrying volume. They are equipped with the latest Thermo King refrigeration systems to ensure precise temperature control and three temperature capability. The trailers also have the added flexibility of a Dhollandia retractable tail lift at the rear."
The development of these new trailers and systems to the fleet has been a collaborative partnership between McLanachan Transport, Gray & Adams and Thermo King Northern.
Michael Cummings from Thermo King Northern also commented: "I am encouraged to see businesses like McLanachans grow and invest within the industry and at Thermo King Northern, partnering with forward-thinking, strategic companies like McLanachan Transport is a delight.
Installed with Thermo King's SLXi Spectrum, these new trailers follow others we have supported for McLanachan Transport. With precise temperature control offered even in the rear compartment, with Thermo King's PTC technology (Precision temperature control), the rear evaporator controls cargo within 0.5'c. A crucial factor when handling the integrity of temperature-controlled goods across the pharmaceutical and food sectors.

Real-time information supplied by Thermo King's Track-King temperature monitoring provides further exceptional control and visibility for both the business and customers."
Our vehicle livery partner OPG has once again delivered the vehicle branding that ensures our we stand out on the road and are compliant.
With all our vehicles, including the latest fleet additions, OPG are tasked with maintaining McLanachan Transport's corporate brand guidelines, and they deliver quality every-time.
OPG shares the same exacting standards as McLanachan Transport regarding quality, service & environmental management and it's good for us that their graphics include REACH & RoHS compliant films.
Alan Watson, OPG General Manager commented, "McLanachan Transport rest easy knowing OPG ISO certificated management systems are externally audited by British Standards Institute (BSI) including ISO 14001 for Environmental, ISO9001 for Quality & ISO 45001 for OHSAS.
Be it branded refrigerated trailers or full wrap colour changes for tractor units, McLanachan Transport counts on us to deliver quality in a safe environment."
Our Managing Director Damian McLanachan concluded: "It's simple for me, and something I learned very early on from my Father and company founder Matt McLanachan – Work with trusted and effective partners and invest in best-in-class assets.
It's been a challenging time across the globe recently for everyone. The logistics industry has certainly had a fair share of issues to deal with, from pandemic lockdown to Brexit and new customs management. That said, I am delighted to report our business goes from strength to strength. We've had to increase the workforce to deal with additional customer relationships and the extra paperwork for customs management. It's a learning curve for many, but we've got vast experience with cross-border transportation complexities.
The effective partnerships with Gray & Adams and Thermo King Northern in bringing these new vehicles into our fleet will increase our capacity capabilities. I want to thank both businesses for their continued support and Stewart and Michael for their hands-on advice.
You can explore our service capabilities through our fleet by visiting: https://www.mtltransport.com/transportation-services