News & Insights
New McLanachan Transport Trailers Show Support For The NHS
Everyone will remember 2020 differently, and many will have experienced business, employment and of course health challenges. One thing we hope we will remember 2020 for is that we were all 'In It Together'.
As we start to contemplate what 2021 will bring, early signs of positivity with Coronavirus vaccinations are encouraging, and now is the time for all of us to reflect on the past year. For the McLanachan Transport team, there's an appreciation of what we have as a business, a community and especially our family and friends.
We displayed gratitude on Thursdays by clapping support for the NHS and keyworkers. Children across the country started to draw and paint rainbows to show their understanding and appreciation of frontline workers. Kids love to ask questions about things they see going on around them, with many parent's keen to ensure children understood why they had to wash their hands more often. They asked why they weren't at school or nursery, and more importantly, why they couldn't play with their friends.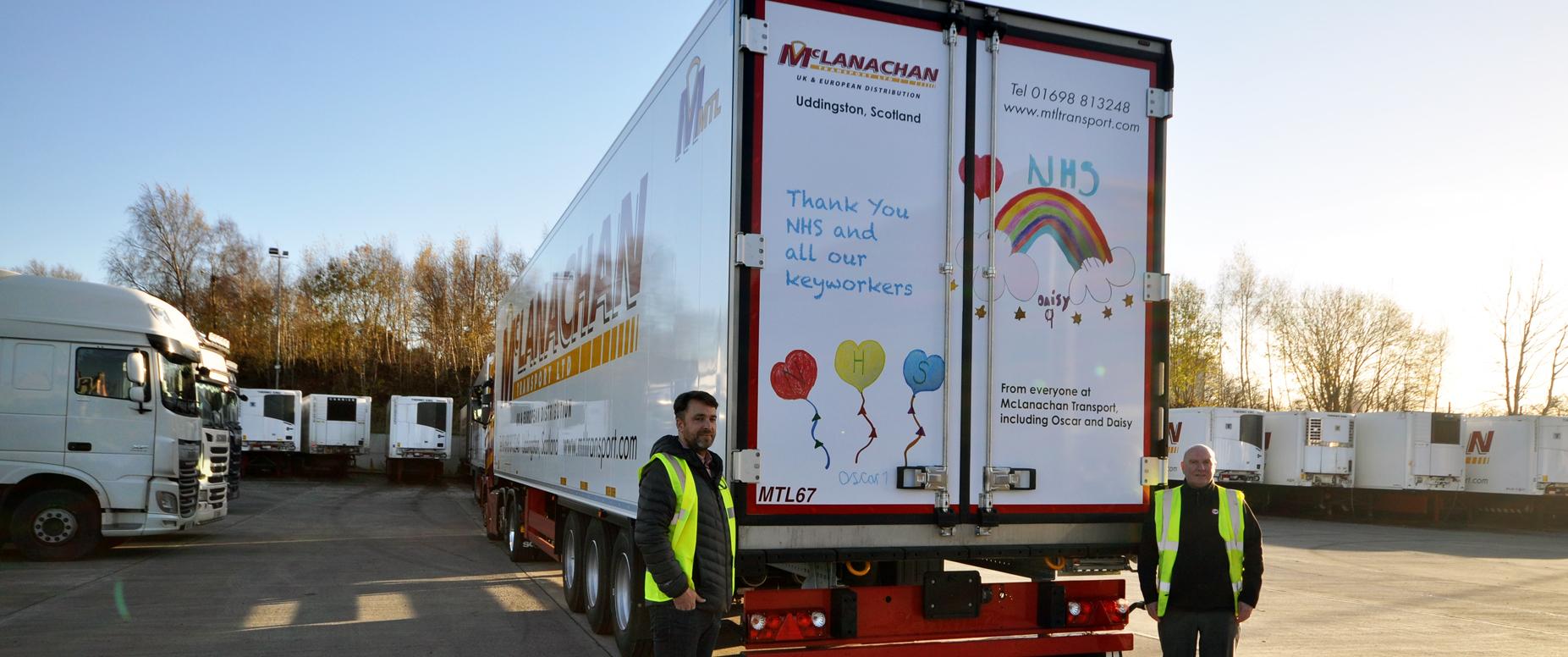 The children of McLanachan Transport Managing Director, Damian McLanachan were no different. Daisy, aged nine, was the first to ask about the rainbows she had seen in people's windows, which sparked the interest of Oscar aged seven who always wants to be involved.
As a family, they explained why it was important to support not only the NHS for helping keep everyone well but the keyworkers who were keeping food on the shelves and the public transport network running.
McLanachan Transport has worked tirelessly with our food and pharmaceutical partners to keep the supply chain moving, not only across the UK but throughout Europe. Our logistics team and drivers have been ensuring vital foods and medicines made it safely to their destinations throughout 2020. We are proud to have played a part in ensuring essential items arrived safely at manufacturing sites and onto supermarket shelves.
The volume of artwork produced by children this year in support of NHS and keyworkers is not only capable of covering every fridge and window of your home, but it probably would also cover the length of a McLanachan European route ten times over.
To mark this year and offer our support as a business, the MTL team selected two drawings by Daisy and Oscar to take pride of place on the rear doors of several new refrigerated trailers. These form part of a significant five-year investment in ten new trailers supplied by TIP Trailer Services UK Limited to ensure our customers have access to a modern and efficient fleet.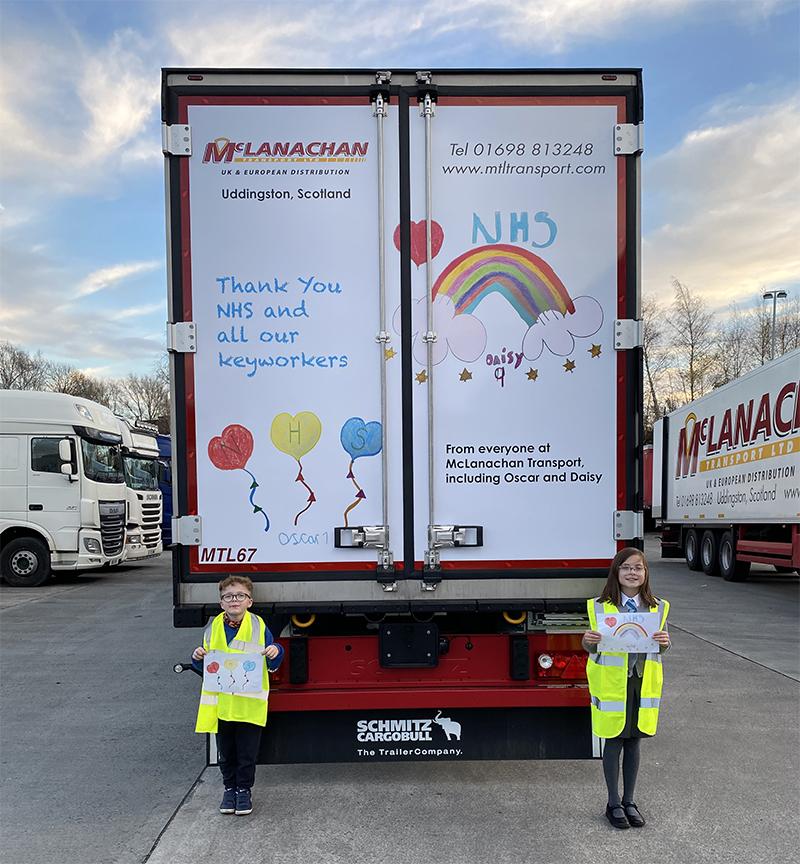 Oscar and Daisy proudly hold their pictures in front of one of McLanachan Transport's new trailers.
McLanachan Transport would like to thank our vehicle graphics supplier, OP Graphics and our design and marketing partners, Advanceworx for pulling out all the stops to ensure the completion of the design and graphic application at short notice. We are sure you will agree they done a superb job.
These trailer door tributes will hopefully make someone smile when they are sitting behind a McLanachan Transport lorry somewhere in the UK or Europe, and as we look to a brighter 2021 and make us all feel thankful to have our families and friends in our lives.
To further show our appreciation to the NHS for all its tireless work, McLanachan Transport has donated to The Glasgow Children's Hospital Charity. We hope this token of gratitude will help give young patients and their families the extra special care they deserve.
We want to offer you our best wishes for Christmas and the New Year from all at McLanachan Transport.